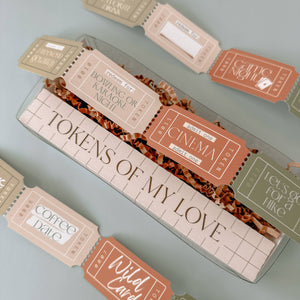 Our love tokens are a fun and creative way to celebrate any occasion with your loved ones. They are a great way to spend more quality time together!
Includes: • A string of 12 prefilled coupons (Your Favorite Drink, Game Night, Let's have brunch together!, Just us Day!, Coffee Date, Wild Card, A Weekend getaway, Bowling or Karaoke Night, Admit one: Cinema, Let's go for a hike, + 2 blank coupons) 
Who is it for? • Couples • Perfect for Valentine's Day, anniversaries, or birthdays!
Dimensions: • Ticket (1): 2.3x1.1" raffle ticket size • Box: 6.75 x 2.75 x 1.25"