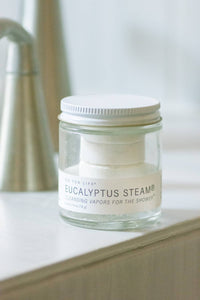 The cleansing vapors of eucalyptus are well known for deep support of respiratory health. Combined with concentrated cooling peppermint for an awakening and refreshing shower.
How to use in the shower: Place one or two rounds in the shower in the direct stream of water. As the round(s) get wet, they begin to dissolve and release potent essential oils into the hot shower steam. The patent-pending slow-release technology gives you several minutes of refreshing, EUCALYPTUS STEAM® filled air.
Contains 4 pieces.
Enjoy the EUCALYPTUS STEAM® shower experience. recyclable glass and metal packaging | pure essential oils by No Tox Life EUCALYPTUS STEAM® is an internationally registered trademark of Earth & Daughter, LLC Contains 4 pieces. Rounds often break in transit. This is normal and will not be replaced or refunded as the product is still completely usable. Read all warnings before use.